Ponmudi is an enchanting hill resort in the Thiruvananthapuram District of Kerala with narrow winding pathways and cool, green environs. Ponmudi is home to mountain flowers, butterflies, springs and rivulets and also occupied by spice and tea plantations and is dotted with waterfalls and view points. Ponmudi offers excellent opportunities for trekking and hiking. With its tea estates and mist covered valleys Ponmudi is a fast developing hill resort with cottages and dormitory accommodation facilities.There are 22 hairpin turns along this short route which makes the travel a definitely thrilling experience. Other attractions near Ponmudi include Golden Valley which offers vistas of the hills and access to the Kallar River. Flowing though a wilderness area, it has rounded pebbles, cool water, fish, and lush green trees.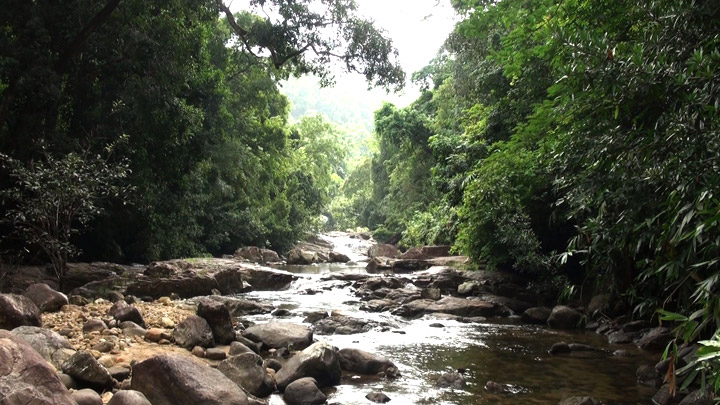 Kallar Situated en route to the popular hill station of Ponmudi. The river is well known for its abundance of attractive, round-shaped boulders and pebbles, especially in the upper reaches and middle portion of its course. At Kallar, the main attractions are the nearby Golden Valley, and the Meenmutti waterfall. Unlike the Meenmutti waterfall, the Golden Valley is easily accessible form the main road. Here one can take a dip in the crystal clear waters to cool off, and also watch the many rapids and small pools that dot a good part of the river in this area. The forest here is mostly tropical in nature, and during the rainy season, one has to be on the alert for leeches.
Places to See in Ponmudi
Kallar River, Meenmutty Falls, Agasthyarkoodam, Peppara Wildlife Sanctuary, Koyikkal Palace, Neyyar Wildlife Sanctuary and Thenmala Eco Tourism.
Best Time to visit Ponmudi
The best time to visit Ponmudi is between October to March. Another great time to visit the hill station is immediately after the monsoon season when the entire region is carpeted with luscious greenery.